DNC and RNC Education Platforms: from Bad to Worse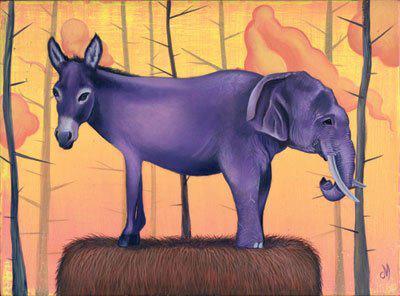 Now that the Democrats and Republicans have both released their 2012 party platforms, I took a look at each party's education planks (with stiff drink firmly in hand). Here's a bit of preliminary analysis.
The first thing that struck me was just how little was actually written on the Democratic side. Sure, substance is not just about word count (though the GOP's plank is 65% longer), but the difference is notable.
It's mostly touting Obama's reforms, and is very light on details for what a second term would hold from either the President or Congress. In their defense, incumbent parties usually take up a lot of space talking about their policy wins — the GOP did that in 2004, but their education plank then was more than twice as long as today's Dem plank.
Some of the Dem plank's internal contradictions are staggering. Here's their description of Race to the Top — which is an exercise in arm-twisting to all but force states to drastically expand charter schools, testing, and "merit" pay — cloaked in opposite words, like "flexibility."
President Obama and the Democrats are committed to working with states and communities so they have the flexibility and resources they need to improve elementary and secondary education in a way that works best for students. To that end, the President challenged and encouraged states to raise their standards so students graduate ready for college or career and can succeed in a dynamic global economy. Forty-six states responded, leading groundbreaking reforms that will deliver better education to millions of American students.
And I was a bit surprised that they doubled down on what was probably the dumbest idea they proposed to tackle spiraling tuition costs:
President Obama has pledged to encourage colleges to keep their costs down by reducing federal aid for those that do not...
I tackled this ridiculous idea back when he proposed in in January. The idea is that colleges who can't keep tuition below the rate of inflation will face a cut federal aid (it's not clear if that's direct institutional aid, or aid to students who go there). It's a cousin of the equally ridiculous policy in many states that punishes low-performing K12 schools by cutting funding.
But often, the difference between Dem and GOP planks is merely one of tone:
GOP: Rigid tenure systems based on the "last in, first out" policy should be replaced with a merit-based approach that can attract fresh talent and dedication to the classroom.
Dem: This includes raising standards for the programs that prepare our teachers, recognizing and rewarding good teaching, and retaining good teachers. We also believe in carefully crafted evaluation systems that give struggling teachers a chance to succeed and protect due process if another teacher has to be put in the classroom.
GOP: New systems of learning are needed to compete with traditional four-year colleges: expanded community colleges and technical institutions, private training schools, online universities, life-long learning, and work-based learning in the private sector.
Dem (2008 platform): At community colleges and training programs across the country, we will invest in short-term accelerated training and technical certifications for the unemployed and under-employed to speed their transition to careers in high-demand occupations and emerging industries. [...] We support education delivery that makes it possible for non-traditional students to receive support and encouragement to obtain a college education, including Internet, distance education, and night and weekend programs.
As a result, we see the Democratic platform is simply a mild-mannered version of the GOP platform. The GOP platform, sure, has some particularly rotten fruit — "we support the English First approach", vouchers and "choice," abstinence, online universities, attacking colleges as "zones of intellectual intolerance favoring the Left", and kulturkampf over religion and "cultural identity." But the two planks clearly are trees sharing the same roots.
Fundamentally, the framing used to understand problems and prescribe solutions in education is a bipartisan one: it's always about competition, and America competing with competitiveness in competitions with other competitors to out-compete each other to win (implied anti-China saber-rattling included, free of charge!).
Dem: "An Economy that Out-Educates the World"
GOP (2008): "Education Means a More Competitive America"
It's no surprise then, with framing like this, how easily right-wing education policies are held by Democrats and Republicans alike.
What might an actually progressive education plank look like?
There are a lot of things that could have been included in the Dem's education plank, especially since they really want — need — high youth turnout to keep the White House and win back Congress. Here are several (some more politically plausible than others):
Attack standardized testing, and all systems that link any benefits or penalties to them.
Propose returning most decision-making back to the classroom
Propose that students should have a significant presence on all school boards and administrative bodies.
Propose that any charter school operating with public funds must be a non-profit with a democratically-elected board.
Propose a constitutional amendment to ensure that all students receive an equitable, properly-funded, quality public education.
Propose a strengthening of student free-speech rights in K12 and college, which courts have been drastically eroding over the past decade.
Propose a serious student loan debt forgiveness program. Right now the current income-based loan repayment programs are confusing and underresourced, and only apply to Federal loans (no luck if you, like most of us, had to take out a ton of private loans).
Propose allowing student loan debt to be discharged in bankruptcy, like all other loans.
Propose that Federal student loans will be granted at drastically lower rates, perhaps the Prime Rate
Affirm that all public and private university employees — including grad students — have the right to organize under the NLRB.
Propose that any accredited university, in order for any of their students to receive federal education benefits, must be a non-profit.
I'm not holding my breath that we'll be seeing any of those bulletpoints coming from the White House anytime soon. It'll take a massive, multi-sector, non-electorally-focused student movement that can instill terror in the hearts of politicians to get any of this done. And that's exactly what we should be organizing around this fall semester, even in an election year — or as our friends in Québec might insist, especially in an election year.